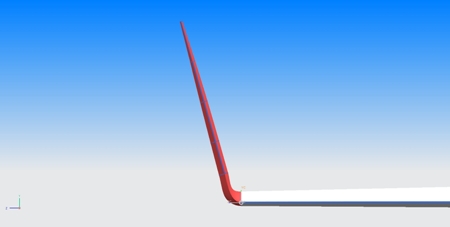 Yankee Composites is now making winglets for the Ventus, Discus and Cirrus. These winglets are designed by Prof. Mark Maughmer of Penn State University.
Winglets, in all forms and shapes, have become a standard feature in sailplane design. Since 1994, M&H Soaring has worked with Professor Mark Maughmer of Penn State University to design and manufacture winglets that have shown to improve the handling and performance of high performance sailplanes. In short, winglets allow a sailplane to climb effectively in thermals at low speeds, and enable the sailplane to glide efficiently between thermals at high speeds. More recently, Professor Maughmer has collaborated directly with Schempp-Hirth designers and the result of their teamwork is now incorporated by Schempp-Hirth in the production of various Ventus models, including the new Ventus, the Duo Discus X and the Arcus.
Yankee Composites offers winglet retro-fitting and winglet kits for selected sailplane models.
For more information on winglets, we refer to the following articles:
Along with our Dealership services as the US Representative for Schempp-Hirth Flugzeugbau GmbH, Yankee Composites is proud to offer dealership service of COBRA Trailers to our customers.
Since 1980 the Alfreds Spindelberger Fahrzeugtechnik GmbH has been producing COBRA trailers.
If it concerns quality, recover-ability, as well as simple and safe handling, COBRA trailers are in use at airfields around the world.
More information about COBRA Trailers can be found on their site.