We are an Authorized dealer for Schempp-Hirth Flugzeugbau GmbH, and offer their range Gliders to the US Market. Find out more information on the: Arcus, Ventus, Discus and Duo Discus here.
Our Aircraft
We are an FAA Certified Repair Station. Find out more about of Upgrades, Parts Replacement and Repair Services.
Our Work
Yankee Composites is dedicated to being an active member in the Gliding Community, offering a range of Forums through our website. Discuss the best places to fly, changes in technology or even browse our Community Marketplace.
Yankee Composites Forum
Our Aircraft
Yankee Composites is US Representative for Schempp-Hirth Flugzeugbau GmbH.
Yankee Composites
Repair & Maintenance of Composite Aircraft
Yankee Composites has been on the leading edge of composite technologies, products and services since 1985. We have accomplished a long list of creations, aircraft rebuilds, repairs, and modifications. We perform annual inspections, pre-purchase inspections, minor and major repairs, implementation of factory directed technical bulletins as well as FAA mandated Airworthiness Directives.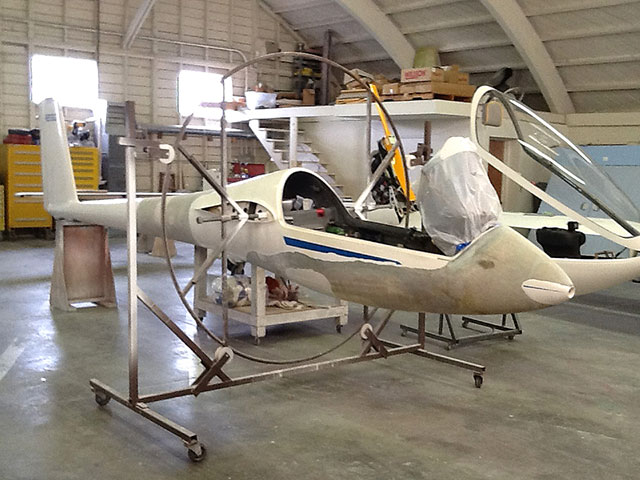 Full Service Shop
Yankee Composites is a composite aircraft and sailplane repair shop. The repairs that we do on gliders (sailplanes) and airplanes run the full gambit of possibilities, from small dings and scratches to crushed air shells, fuselages, fairings, wings, or winglets. Our work also includes engine maintenance, fuel tank repairs, and landing gear replacement. As our name implies we are highly qualified in composite materials such as carbon fiber, Kevlar, and fiber glass. No job is too small or too large for either our facility or our level of expertise. We can provide you quality service at competitive rates. Thank you for expressing an interest in our company and we assure you that we stand behind all of our work, and your satisfaction is guaranteed.
Quality Service
Yankee Composites believes service to our clients, friends, and fellow pilots, is of the utmost importance. The wing you fly holds the most valuable object around… your life! Yankee Composites promises to uphold the highest standards when inspecting your glider. We also guarantee that you will receive an honest assessment of the repairs or services that your equipment may require. All service is done by FAA certified repair specialists with many years of flying and fixing experience. [In this image, auto gas containing alcohol deteriorated the resins in the fiber-glass aircraft skin near the fuel tank filler cap.]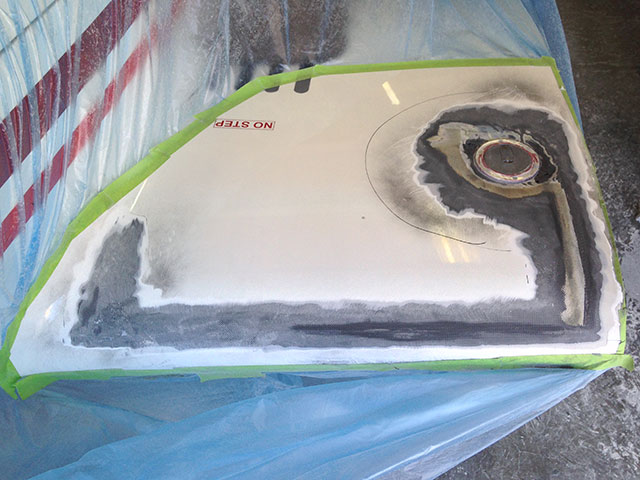 OUR TEAM
Our Objective: Quality Craftsmanship.
Garret Willat
Manager
Repairmen, Commercial Pilot, Instructor, BA in Aeronautics from ERAU, 3 Time National Champion, Husband to a remarkably clever, very beautiful, extremely patient wife, Father to two precocious girls.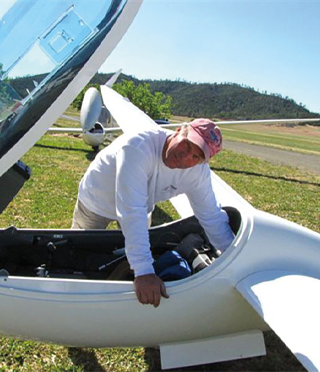 Rick Anderson
Chief Inspector
Chief Inspector, A&P, private pilot glider and SEL: Masters Degree-Long Beach State; Lifetime Teaching Credentials-Long Beach State; Former Senior Model Maker at George Lucas's "Industrial Light & Magic"
WHAT OTHERS SAY
Rick Anderson thrives on challenges. He has the skill and knowledge to fix it, remake it as necessary and succeed at whatever job he is given. As Rick served Soar Minden with workmanship second to none for nearly twenty years, he continues to do the same quality work for others. If you want the best work done in a timely fashion see Rick. No challenge is too great for this man. Rick, I firmly believe there is no one of your caliber out there. If you want to understand the scope of work his repair station is capable of doing go to YouTube and enter, "Rick Anderson, Maker of Things".

Tony Sabino
Pilot, Owner, Soar Minden
Rick has gone way above and beyond to accommodate our unique needs. I go out of my way to get him to work on our glider.

Daniel Kunkel
Pilot, Owner, Grob 109, Glider-Rides.com
Rick repaired the wing around the fuel filler cap of my carbon-fiber composite airplane. He completed the repairs as promised and for the price quoted. He was very responsive in answering my questions. The repair looks great and overall I am quite happy

Wes Weathers
Pilot, Owner, Dynamic Light Sport
Yankee Composites Newsletter
Welcome Schempp-Hirth Owners, Yankee Composites is honored to be the new US Representative for Schempp-Hirth Flugzeugbau GmbH. For the last […]
Bring your glider in for an annual inspection. Thinking of purchasing a used glider? We also offer a pre-purchase inspection service. Give us a call.
Schedule Service.